Kosmologik Industries'
elimination of stored water
is truly revolutionary, the
solution to ageing and
poor conservation of water.
Kosmologik water dispensers
are direct cooling and use
AISI 316 L stainless
steel and aluminium coils.

Die echte Revolution
von Kosmologik besteht
aus die Eliminierung des
angesammelten Wassers und bietet so die Lösung für das
alt werdende Wasser und seine schlechte Aufbewahrung. Alle Spender stellen das Wasser direkt her und verwenden eine Rohrschlange aus Edelstahl AISI 316L und aluminium.
La véritable révolution de la société Kosmologik Industries consiste en l'élimination de l'eau accumulée, la solution au veillissement et à la mauvaise conservation de l'eau. Le fontaines Kosmologik sont à production directe et utilisent un serpentin en acier inoxydable AISI 316 L un aluminium.
La vera rivoluzione di Kosmologik Industries è l'eliminazione dell'acqua in accumulo, la soluzione all'invecchiamento ed alla cattiva conservazione dell'acqua. Gli erogatori Kosmologik sono a produzione diretta ed utilizzano serpentine in acciaio inox AISI 316 L e in alluminio.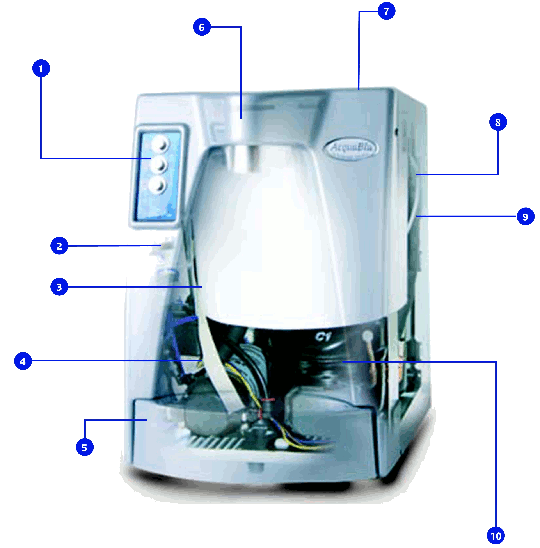 | | |
| --- | --- |
| 1 Buttons | 1 Pulsantiera erogazione |
| 2 Electrovalves | 2 Elettrovalvole |
| 3 Water tank with carbonator | 3 Serbatoio d'acqua con carbonatore |
| 4 Water pump | 4 Pompa acqua |
| 5 Water drip tray | 5 Raccogligocce |
| 6 Water outlet | 6 Aeratore |
| 7 Filtration system (inside or outside) | 7 Sistema filtraggio interno o esterno |
| 8 Electronic control of carbonation | 8 Controllo elettronico gasatura |
| 9 Space for CO2 Bottle | 9 Vano bombola |
| 10 Compressor | 10 Compressore frigorifero |